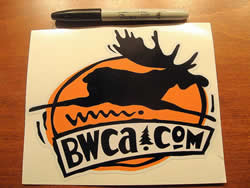 Have you ever wondered when you pass a few canoes on a lake or meet a group at a portage, if they are people you know from this online community?
Show your colors and get a pair of vinyl decals for your canoe. You never know who you might run into on a remote portage or at a gas station in the middle of Iowa on the way up north.
Help support BWCA.com by making a donation and receiving decals for your canoe. The decals are a vinyl material and made to withstand may sunny days and the harsh elements of the boundary waters.
By Using PayPal / Credit Card:
Or

By Check:

www.bwca.com
P.O. Box 879
Hopkins, MN
55343


*Note: If you would like your donation credited to your username at bwca.com, please login prior to making the donation or make note of your username in the donation itself. To remain anonymous please select "Yes" above or make note of it with your check.